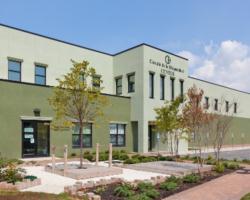 Twenty years in the making, Círculo's dream of building a community center finally became a reality when the organization obtained a $15 million loan through a bond issue from the Town of Hempstead Industrial Development Agency in collaboration with Non-Profit Preferred Funding. The center, which opened in January 2010, in Hempstead, New York, is the first nonprofit organization to have achieved Gold Status by the US Green Building Council in New York State.
Designed as a LEED (Leadership in Energy and Environmental Design) or "green" building, the center is a historic example of green technology.  This green initiative supports Círculo's mission to improve the lives of individuals and families by reducing energy usage and helping individuals become stewards of the earth and its resources. 
What makes Círculo Center Green?
A green or LEED facility is one that encompasses a holistic approach to building.  From the design of the facility to the choice of materials used in the building, being green means incorporating healthy products and construction practices that promote sustainable development and help to reduce energy usage and save resources of the planet.
There are many components that makeup five essential elements of green building. These include:
Sustainable Sites
Water Efficiency
Energy and Atmosphere
Materials and Resources
Indoor Environmental Quality
Indoor Environmental Quality
This building was designed to accommodate the needs of the occupants.  Classrooms were built with southern exposures allowing for maximum light. The facility also was designed to ensure healthy air quality. Products used in the building help to ensure healthy air quality. For example, paints and glues used in the building meet with LEED requirements and help to improve the overall air quality by limiting the level of toxins in the air.