CÍRCULO DE LA HISPANIDAD PROGRAMS

Círculo is committed to providing community programs and comprehensive human resources to the vulnerable families and individuals residing in under-served communities on Long Island. Now the challenges are greater and the need for our services continues to grow enormously. Consequently, we are increasing our efforts to enrich the communities we reside in to meet those needs.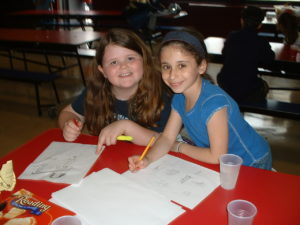 As a vibrant, progressive, and economically developed organization we encourage full participation in civic and community life as the road to empowerment and stable employment. Our aim is not simply to find appropriate employment for our participants, but also to teach the practices and understandings that will lead to permanent, sustained employment. In addition, we continue to meet the evolving needs of our community by offering immigration and citizenship counseling, recreational programs for youth, and cultural programs for the greater population.
CAREER & EMPLOYMENT

Círculo de la Hispanidad offers educational training in food services and hospitality. In addition it provides referrals services to help individuals with career and employment. Individuals can tap into Círculo's educational resources (literacy classes, educational classes to preparation for the equivalency diploma and classes in computer literacy).
CRIME VICTIMS SERVICES
Salva VOCA is the Victims of Crime Assistance program that is designed to assist and guide victims of crime through the legal system and educate them on their rights. These services are provided in English and Spanish and include crisis intervention, court escort, legal assistance, education awareness and victim advocacy.
CRISIS INTERVENTION

Círculo offers a wide variety of crisis intervention programs for multiple needs including a food pantry in Long Beach. In addition, the agency also receives donations from time to time for clothing. Please call for additional information and information about crisis intervention services.
CULTURAL
Círculo offers a range of different educational programs including:
• Sabado Cultural
• Hispanic Heritage Month
Other event throughout the year. Check our Special Events page for more information.
DOMESTIC VIOLENCE
The Salva Domestic Violence Program provides Spanish/English bilingual support services to victims of domestic violence. Services including crisis intervention, evening apartments, case management, counseling, referrals, and court advocacy with family and criminal court issues. The agency also operates a bilingual hotline to provide support, crisis intervention and education to individuals living with violence or who have questions about violence and support services.
Casa Salva provides temporary housing to homeless survivors of victims of domestic violence and their families fleeing from abusive relationships.
Casa Esperanza provides permanent housing to homeless survivors of violence.
EDUCATION & LITERACY
The mission of Círculo's Education and Literacy program is to encourage full participation in civic community life and to expand work opportunities for our participants. Círculo empowers clients providing education in a safe, non-threatening, nurturing environment where adults gain confidence communicating via enhanced skills in:
Language proficiency
Computer technology
Social Interaction
HEALTH SERVICES
HIV/AIDS Services
HOUSING SERVICES

The Supported Housing Program (SHP) provides rental assistance to individuals diagnosed with mental illness.
The Homeless Housing Assistance Program (HHAP) offers permanent housing for homeless families in the Nassau County community.
Casa Salva provides transitional housing to homeless survivors of victims of domestic violence and their families fleeing from abusive relationships.
Casa Serendidad provides permanent housing assistance to individuals living with HIV/AIDS who have experienced repeated homelessness.
IMMIGRATION SERVICES

Círculo is in the process of enhancing the services our immigration program provides to the community. Services will include: education, information and referrals. Please call the office for additional information. (click here for complete details)
RECREATION
Soccer, Tae-Kwon-Do, Dance, and Basketball and other activities.
SPEAKER BUREAU

We have staff available to speak about a range of topics affecting youth, individuals and families. We can provide on-site training and seminars per your request.
TECHNOLOGY TRAINING

The mission of our Community Technology Center (CTC) is to provide Nassau County residents with access to information technology and related training. We leverage computer technology to improve academic achievement, teach new job-related skills, build small businesses and empower people to become "digital citizens".
YOUTH SERVICES

Circulo offers a variety of programs for children and youth including educational, recreational and cultural programs. Some of these include the programs below:
The Partners After-School Program provides after-school programming to elementary school age children. In addition to receiving academic assistance, children participate in recreational and other activities designed to help them make positive choices.
Círculo's YDDP program provides a range of different educational, recreational and cultural activities for children and youth. During the week homework assistance is provided to elementary school age children. YDDP also provides Spanish guitar lessons to help youth develop their skills and master the guitar. Sabado cultural provides recreation with history and culture and teaches children about different Spanish speaking countries. Children and youth also learn dance and create arts and crafts projects that reflect the many different Spanish speaking countries.
Círuclo also offers other programming to support youth including summer camps, youth committee, educational enrichment programs and other services.
HIV TESTING PROGRAM

Coming Soon:
"WHEN NOTHING IS SURE EVERYTHING IS POSSIBLE"