Círculo de la Hispanidad Mission Statement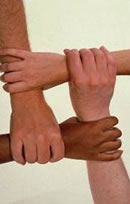 The mission of Círculo is to improve the lives of individuals and families through a comprehensive continuum of social service, education, recreation, cultural, economic development, and social justice programs.
We focus on the needs of underserved individuals and work in partnership to strengthen communities.
Historically Hispanic immigrants, with limited ability to communicate in English, first seek help from grassroots community-based organizations such as Círculo. We speak their language, and offer a safe, familiar and supportive environment within which our many program participants prepare for their successful integration into the larger English-speaking society of the USA.
Círculo de la Hispanidad is a recognized New York State chartered non-profit 501(c) 3 community based organization, first incorporated in 1980. Today, after nearly a quarter of a century of ever expanding service, Círculo offers more than twenty-five programs and allied activities in education, health services and health education, crisis intervention, child-care, HIV/AIDS, housing, and cultural enrichment. From our Hempstead and Long Beach offices in Nassau County, Long Island, New York, Círculo serves over twenty-thousand individuals annually.
Círculo is committed to providing community programs and comprehensive human resources to vulnerable families and individuals who reside in the most underserved communities on Long Island. Now the challenges are greater while the need for services continues to grow enormously. Faced by these difficult new realities, we are redoubling our efforts.
As a vibrant, progressive, economic development organization, we encourage full participation in civic and community life as the road to empowerment and stable employment. Our aim is not simply to find appropriate employment for our program participants, but to teach the practices and understandings that will lead to permanent, sustained employment. We also continue to meet the evolving needs of our service community by offering immigration and citizenship counseling, recreational programs for youth and cultural programs for the greater community.
More than a slogan, "Growing Stronger Together" is a promise delivered every day at Círculo de la Hispanidad.
"When nothing is sure, everything is possible!"