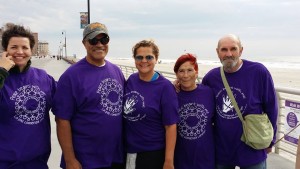 Our 2020 Walk for Peace will be on Saturday, September 26, 2020.
Círculo de la Hispanidad began its "Peace Walk to End the Silence on Domestic Violence" with a purpose to raise awareness about domestic violence in our community and to provide information to break the silence on violence. Círculo holds the walk every fall on the Long Beach boardwalk at Riverside Boulevard. The event begins with a program including different speakers following by a walk on the Long Beach Boardwalk.
Círculo's Salva Domestic Violence Program posts educational information on large posters throughout the boardwalk in both English and Spanish offering facts, statistical information, and resource information about domestic violence, sexual assault, stalking and dating violence in our society. These educational posters also include artwork by children in Círculo's youth programs.
For additional information about the Peace "Begins with Me Walk" see the Special Events Tab.
For information on sponsorships, volunteering or to get involved with this event contact the Long Beach office at 516-431-1135